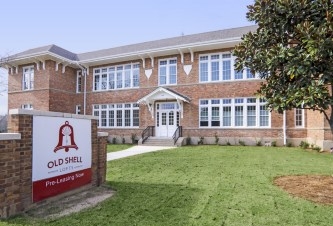 Old Shell Road
Old Shell Road was constructed c. 1824 and was originally named Isabella Street. It extended from downtown Mobile to Spring Hill, a community which was originally a fashionable summer resort and yellow fever refuge. This distinctive thoroughfare known to all Mobilians was originally surfaced with shell and was locally known as the "Shell Road".

Beginning at Broad Street, the "Shell Road" passed through Stickney's Hollow, along the fringes of Summerville (now Spring Hill Avenue) skirting Ashland, the home of Mrs. Augusta Evans Wilson (now Ashland Place) near Napoleonville (now Crichton) eventually climbing "The Hill" and ending majestically at Spring Hill College. To provide for the maintenance of the road, which had to be resurfaced with shells four times a year, an act of legislature, February 13th, 1850, opened Isabella Street to toll and renamed it the "Shell Road". A toll gate located near Stickney's Hollow (now known as Fearnway) charged 25 and 50 cents per vehicle.

On February 10th., 1854, a second act of legislature authorized the construction of another shell road along Mobile Bay. It was at that time, so as to distinguish one from the other, that the original "Shell Road" was renamed "Old Shell Road". Old Shell Road has a reputation as being something of an "education highway". Old Shell Road is home to three of four of Mobile's currently operational private high schools, two magnet schools, two private elementary/middle level schools and both of the city's four year colleges.

The following educational institutions are located on (or near) Old Shell Road: Corpus Christi Catholic School, The University of South Alabama, Spring Hill College, St. Paul's Episcopal School, St. Ignatius Catholic School, Phillips Preparatory School, UMS-Wright Preparatory School, Augusta Evans Elementary School (now relocated), Old Shell Road Creative and Performing Arts School (now relocated), St. Mary's Catholic School, McGill-Toolen Catholic High School.

Dozens of historic homes and notable sections of Mobile's world renowned tree canopy distinguish Old Shell Road. Buildings of note include: the Pollard House (the oldest house in Mobile): Calef Staples House; Chinaberry; the Thomas Shannon Hunter House; and St. Paul's Chapel.
source: Cart Blackwell & Douglas Kearley; AL.com; Harper's Weekly Journal of Civilization, New York, Saturday, September 8, 1866